Miss Donna's Entertainment for Festivals.
There is nothing like bringing colour, fun and laughter to a festival.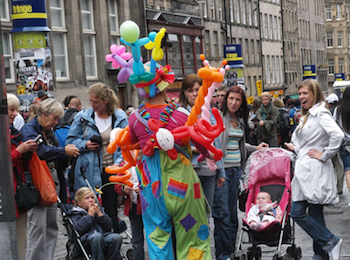 Line Work
An extremely popular choice for crowds of children due to the incredible amount of interactivity.
This option is one of the most common for balloon artists, which is.... line them up and start twisting!
A perfect choice if your looking to paint your crowd in a whole variety of eye catching colours.
It is more than just creating elaborate balloons because Miss Donna prides herself on keeping every crowd entertained. After all, with Miss Donna it's not just the balloon she offers, it's the experience!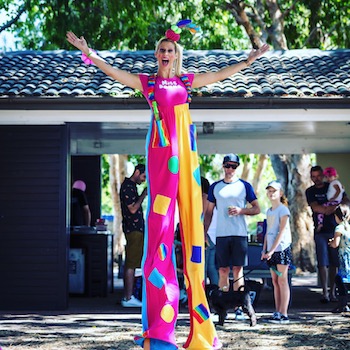 Roving Entertainment
Wandering characters are perfect for adding that spark to your event.
Miss Donna has a few amazing talented friends who love to perform together.
Choose from a variety of personalities both on foot and on stilts. Lots of laughs, jokes, gags, bubbles, magic, juggling, hula hooping, contortion, acrobatics or even a character in a balloon costume!!
All to help create that wonderful festival experience.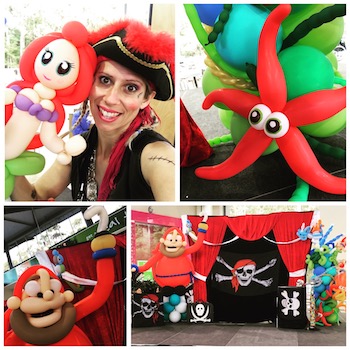 Daring Donna's Pirate Show
Ahoy there mates!
Arm the kids with lots of giggles and smiles, then strike the main sail, stow the cannon and get ready for mayhem as we introduce Daring Donna the Pirate, the bravest pirate ever to sail a plastic boat in a bathtub.
Join in the fun as this crazy pirate teaches the children the pirate song, recruits new crew members to help her cook a magic cake and create mayhem as she tries to juggle sea urchins.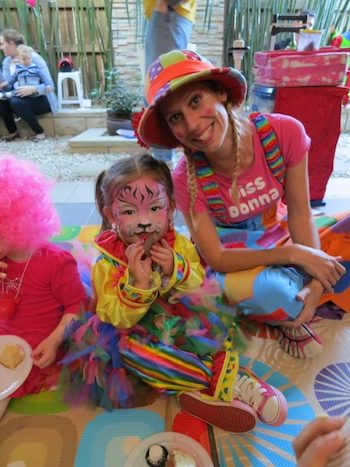 Miss Donna's Magic Clown Show
This adorable, fun loving clown will have you squealing with laughter with her crazy antics. The Children become stars themselves when they get to help with virtually every routine and watch as magic happens right before their eyes.
Help Miss Donna cook a magic cake, giggle at her silly juggling and be amazed as she uses an arm full of balloons to create an amazing extra large balloon animal for the birthday child..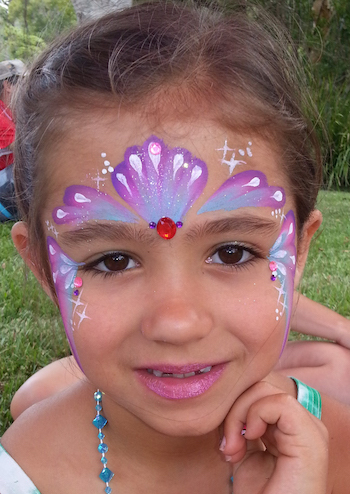 Face painting
Miss Donna and her talented friends are truly world class.
With a few strokes of a brush, they can transform any child or adult into a prowling tiger, scary monster or maybe a beautiful butterfly.
What a marvellous way to add to your festive atmosphere. We have a few face painters who can team up to cater for large festivals.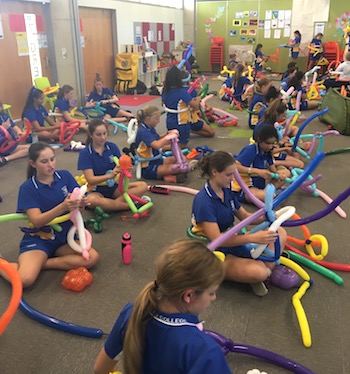 Balloon Workshops
Balloon twisting workshops are a buzz of colour, fun and excitement, great to add to any festive atmosphere.
Balloon workshops give each child hands on experience in creative balloon twisting and self expression.
They become official balloon twisters themselves... and best of all is watching their faces light up as they walk away with their own creative achievements.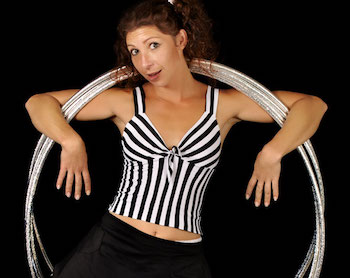 Other Entertainers
Miss Donna has lots of entertainer friends who love to join her at large events or to step in when Miss Donna is unavailable.
From jugglers, hula hoopists, contortionists and stilt walkers to aerialists, balloon artists, face painters, fire twirlers, roving characters and much more.
You can check out more info on them at www.BeAmazedEntertainment.com