Miss Donna's Birthday Party Entertainment.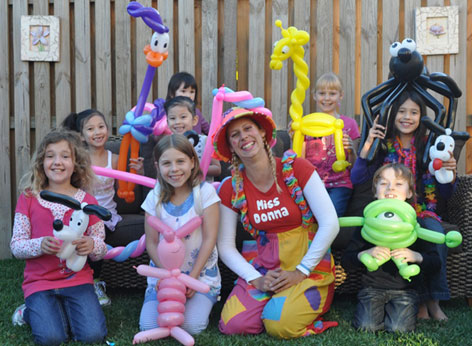 Miss Donna is a professional full time entertainer and loves brightening up children's birthday parties!
She is the perfect addition to a party and will keep the children entertained while the parents get to relax and enjoy the party too!
All you need to do is supply the birthday cake, food, drinks, lolly bags and decorations and Miss Donna does the rest.
Miss Donna's Magic Show

High Impact kids show - Fun, Laughter and Magic!
This adorable, fun loving clown will have you squealing with laughter with her crazy antics. The Children become stars themselves when they get to help with virtually every routine and watch as magic happens right before their eyes. Help Miss Donna cook a magic cake, giggle at her silly juggling and be amazed as she uses an arm full of balloons to create an amazing extra large balloon animal for the birthday child.